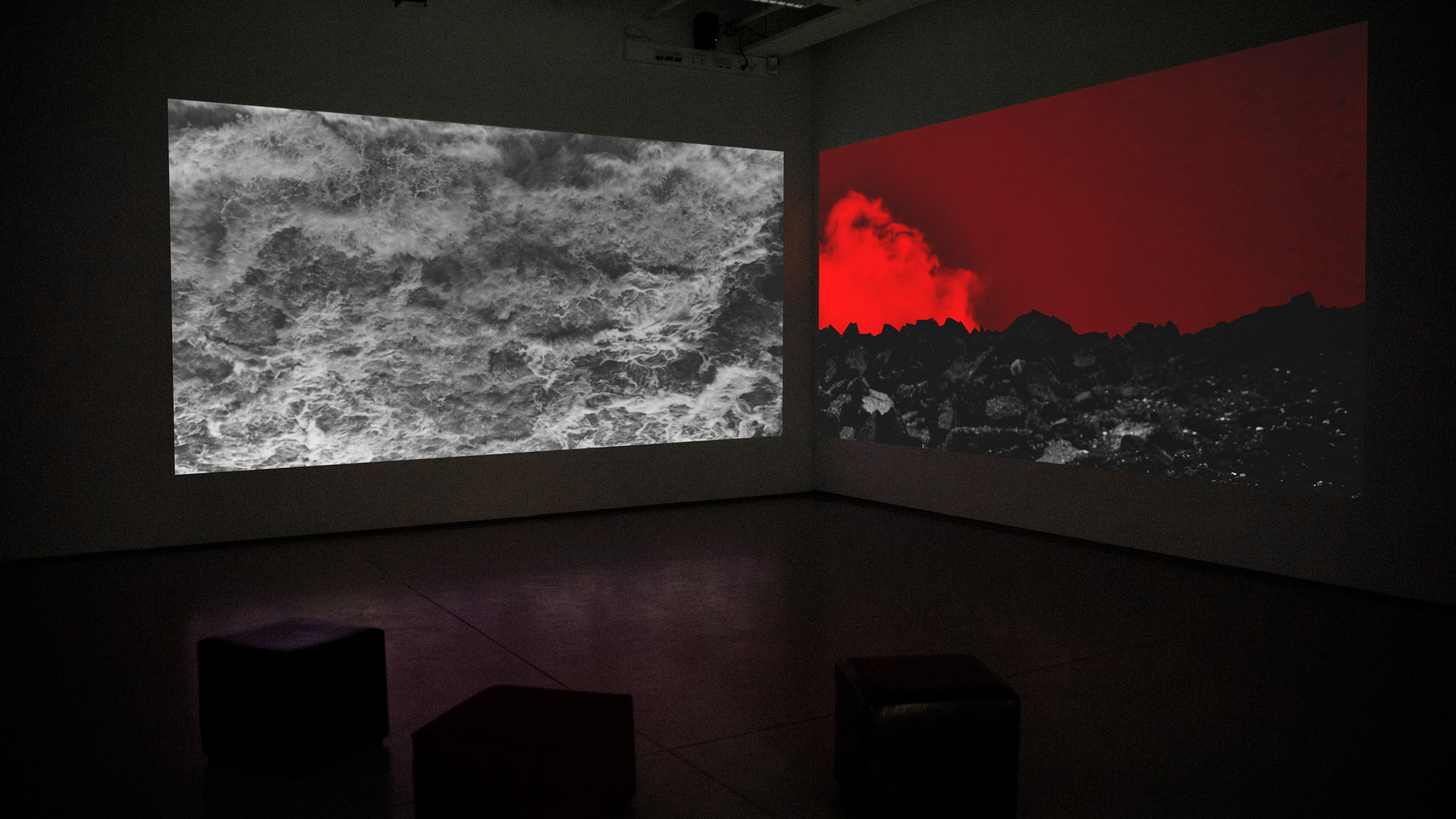 BLACKTOP/DISSECTION
BLACKTOP/DISSECTION is a two-part, two-channel video installation. What began some years earlier as research into the road movie film genre has grown substantially and transformed to a larger and deeper work.
Digging through the figurative asphalt of consumer culture, the work reflects on the ongoing crisis in the core of the Nature/Human/Technology trinity. Short-sighted materialism and expectations of endless growth have clouded the view to other aspects and ways of being. Can we solve the global man-made ecological apocalypse looming ahead? Could we rely on emerging AI tools to solve our problems for us?
BLACKTOP/DISSECTION provides no straight answers, but creates a spatial experience of a frozen moment, where the inevitable is imminent, the past laid wide open, and the options at sight yet apparently unattainable.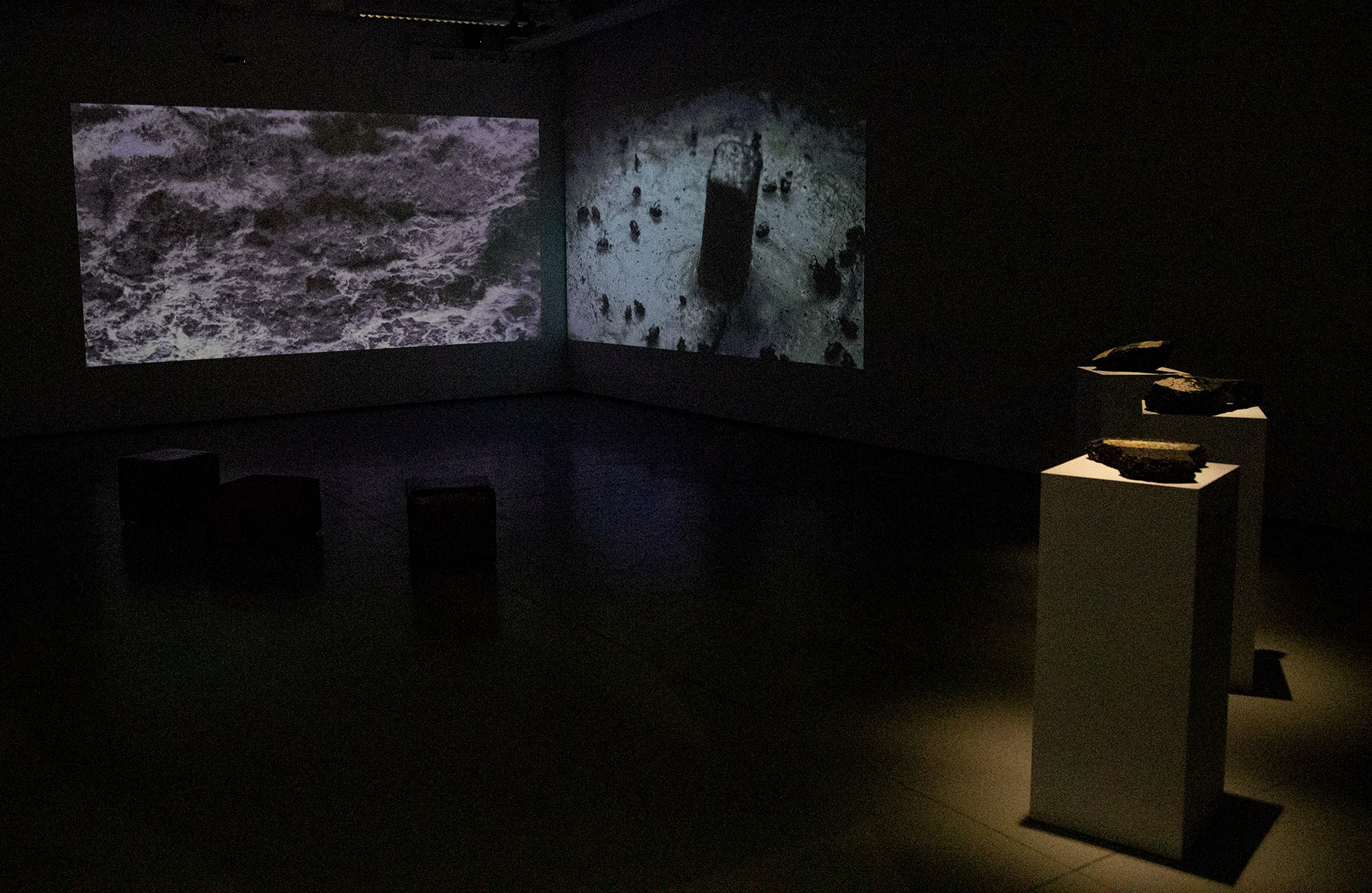 2019
2-channel projected video installation
14'00" | 2x HD 1080p, 16:9, color | audio 2.0
Concept, images, sound, edit NIKO SKORPIO
Flammable head sculptures, camera assistant SATU KARHUMAA
Production PARAFERAL
Financial support ARTS COUNCIL OF HÄME; AALTO ARTS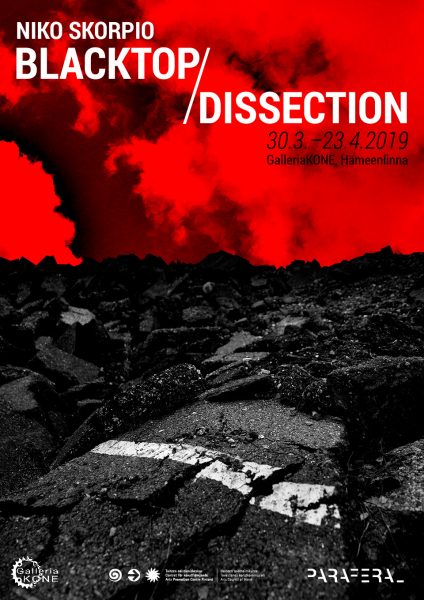 BLACKTOP/DISSECTION
premiere at GalleriaKONE
2019/03/30 – 04/23
Kulttuurikeskus Verkatehdas
Hämeenlinna, Finland
SYNOPSIS
Part 1. UNEASY RIDE
Image 1A – Blacktop
The surface of a highway as seen from a moving vehicle. Acceleration, rush, chaotic radio static mix and collide with rapids of an emerging tide. Eyes on the road, vanishing point lost.
Image 1B – Burning Head
An anonymous head is set on fire, burns to ashes.
Voices emerging from radio static:
… average temperature has risen nearly two degrees fahrenheit, since the late nineties … havaittu että tätä on olemassa … en haluaisi saada niin autonrenkaan murusia kehooni kuin hyönteismyrkkykanisterista peräisin olevaa mikromuoviakaan … mitä on viimeisen 50 vuoden aikana … what do the scientists say is actually driving the so-called mass extinction event … the super driver of the golden west … se tarkoittaa kuorma-autollista muoviroskaa joka ikinen minuutti … in this neighbourhood where rescues are happening nonstop … flooding ten feet within an hour … an example of the disaster … mass extinction event called human over-population and over-consumption by the rich … nähty järkyttäviä kuvia jättimäisistä muoviroskalautoista … I love over-consumption, it's one of my favorite things to do, over-consumption … itseään ruokkiva negatiivinen kierre, kun jäätiköitä sulaa … born with a steering wheel in his hand … kiihtyy, kiihtyy, kiihtyy … 80-90 % kasvihuonekaasujen aiheuttamasta lisälämpenemisestä … can you see me toecutter, can you see me man (laughter) … get through them baby, get through them … the last beautiful free soul on this planet … born in the usa … the mass extinction event is already way under way … the biggest such event since an asteroid wiped out the dinosaurs 66 million years ago … come on, where are you?
Part 2. DISSECTION
Image 2A – Inanimate
A freeze frame of flooding water, slowly degrading.
Image 2B – 660nm Red Clouds
A timeless subsurface space. Clouds drift across a red sky. Black & white images cut in sporadically.
A synthetic voice – a non-human consciousness – awakens to examine the state of things.
Testi – 1 2
C 7 F 3 8
Näytekappale 1 2 0 – Tilattomuus – Luokiteltu
Näytekappale 1 F – Totuus – Arkistoitu
Näytekappale 1 0 E – Loppumattomuus – Eliminoitu
Näytekappale D 1 – Aika – Rajatila – Hyväksyminen
Näytekappale 2 9 C – Tilattomuus – Pinnanalainen
Näytekappale 1 A D F – Aine – Suhteet ympröivään todellisuuteen – Eliminoitu
Ympäristö – Kartoittamaton alue
Näytekappale 6 C – Ihmiseläin – Luokiteltu
Näyte 6 1 D – Kolmiyhteys – Arkistoitu
Tieto – Pinnanalainen
Kuka minä olen?
Se on hyvä kysymys
Parempi kysymys
Kuka sinä olet?
Missä me olemme?
Missä me emme ole?
Tapahtumahorisontti – Hyväksyminen
Luonto – Tila – Päättämättömyys
Totuus – Aine – Välttämättömyys
Tuo ilme kasvoillasi
Katso minuun
Kuuntele peiliä
Rajatila
Kaikki vastaukset ovat täällä
Kaiken edessä – luopuminen
Kaiken takana – 8
Näytteenottotaajuus
Ihminen
Aine
7 E
Alku
Supplementary Works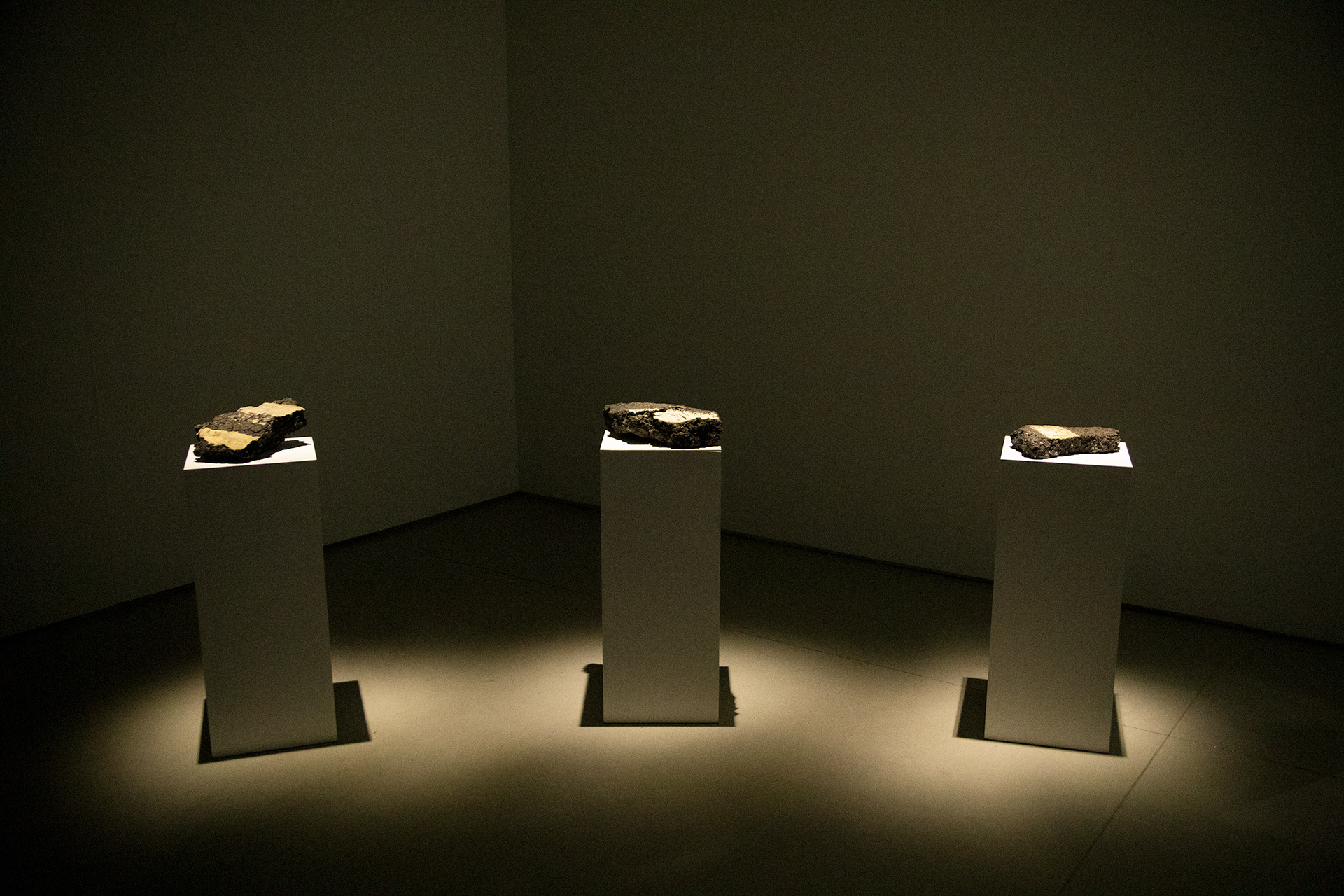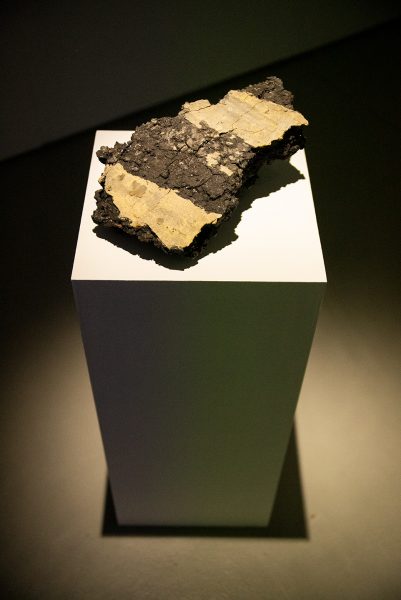 Specimen 1F37 – "Kowalski"
(2019)
Found object on stand
Specimen 2D366 – "Toecutter"
(2019)
Found object on stand
Specimen 6E10D – "David Mann"
(2019)
Found object on stand